Peach Pyramid have announced their new EP Bright Blue due out on September 20 via Oscar St. Records and are sharing their first single from the EP, "Wear Sunscreen." The single was co-produced by and features keyboards from Kathryn Calder of The New Pornographers, including lush, dream pop with synchronized harmonies and smooth synths, perfect for an end of summer fling.
Listen to "Wear Sunscreen":
Peach Pyramid features the tranquil vocals of Jen Severtson, Adrian Heim on guitars with Rowan Mackenzie on bass and drums. The group hails from Victoria British Columbia, and draws from Severtson's room in prairie based Calgary Alberta. The group released their debut LP in 2017, Repeating Myself on Oscar St Records, exploring themes of abuse and healing.
Their sophomore release of Bright Blue features enlightening pop gems centered around themes of love and self-doubt. The EP was re-joined by producers Colin Stewart (Black Mountain, Destroyer, Dan Mangan), and Kathryn Calder (The New Pornographers, Frontperson, Immaculate Machine). Bright Blue will be released on September 20.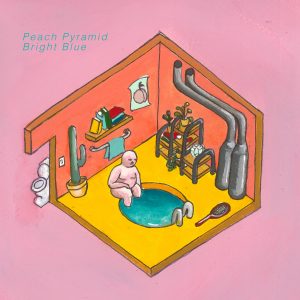 Connect with Peach Pyramid on Instagram, Facebook, Bandcamp, Twitter & Oscar St. Records.