Out August 16th, Cage & Aviary is the much-anticipated debut album from songwriter and vocalist Bryony Jarman-Pinto. Written over the course of three years, the album ties personal reflection to wider social issues, giving an intimate insight in to what it means to come of age in today's world. Sophisticated songwriting is brought to life with Bryony's harmonious vocals, layered with jazz, soul and elements of folk, creating a melodic sound that has charmed major tastemakers, including Gilles Peterson (BBC 6Music), Lauren Laverne (BBC 6Music), Laurent Garnier (Worldwide FM), Jamz Supernova (BBC 1Xtra), Robert Elms (BBC Radio London), John Kennedy (Radio X) and Jeremy Sole (KCRW); receiving praise from publications including Clash and DUMMY.
Cage & Aviary was created with long-time friend, collaborator and Tru Thoughts label-mate Tom Leah AKA Werkha, highlighting their capacity for musical exploration. "The album is built around my contemplations on life, love and myself and tying that in with wider global issues." Jarman-Pinto explains, "lyrically I have circled around the theme of family and securities I felt at a younger age, measured against my insecurities now and personal desires to my own femininity and personhood". This lyrical struggle is best represented in "Emerge", a track written at a time when Jarman-Pinto was experiencing her biggest lack of creativity and insecurity around her writing; she describes a breakthrough in writing, willing for one to come.
The LP is fronted by lead singles "As I've Heard" and "Saffron Yellow", both tracks honing in on feelings of freedom, escape and anticipation. "As I've Heard" tells the story of the moment when elation and normality collide, walking home with a smile on your face after being out all night, whilst "Saffron Yellow" is about the battle not to give in on the things that make us anxious but to instead take a moment to discover the excitement of everything again. With imagery a strong theme throughout the album, "Saffron Yellow" alongside final track "For The Bear" encapsulate Jarman-Pinto's imagination as she indulges the fantasy of the narrative hidden within the layers of the emotional subtext and song meaning; "I love "For The Bear" the lyrics are so cryptic, it's like a maze trying to get to the meaning of it", Jarman-Pinto states. "It's about the desire for power and strength but also the negative side of the pursuit, where did the power come from?" Harmonies also have an important place across the LP, with opener "For The Birds" introducing the album as cyclical layers of her voice take centre stage.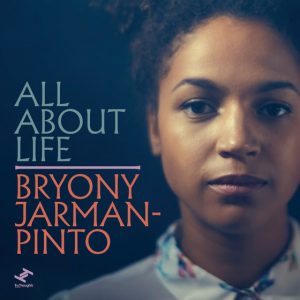 The ownership of Jarman-Pinto's vocals and the power that comes with it is something that illuminates the entirety of 'Cage and Aviary' as she tackles questions surrounding gender, race and politics. The unapologetic "Alchemy" is fuelled by the frustrations of misogyny, whilst "Sour Face" focusses on the wider frustrations of everyday life; "Break ups, environmental issues, the album and myself" Jarman-Pinto confesses. Widening the discussion further, the lyrics of "All About Life" stem from the dismay felt over growing racial tensions – "There was a lot of negative news about immigration and tension in society. I'd say I wrote it to reassure myself". Born in London, Jarman-Pinto moved to Penrith, Cumbria in the North West of England with her family when she was 8; "To begin with, there was a big culture shock for my sister and I being part of a handful of BAME (Black, Asian and Minority Ethnic) children in the town. However, I loved growing up in Cumbria, having freedoms I don't think I would have had in a city".
This resilience and optimism is deeply rooted in Jarman-Pinto's work, coming to a head with "Sweet Sweet", a track written for her nephew. Though touching on the issues he and younger generations may face in the future, the song ultimately celebrates the joy and innocence around his birth. Likewise, "Sun Kissed" favours the easy pleasures of life and the importance of these during the most difficult moments; "I love feeling the hear of the sun on my skin and I really don't care about much else in those moments!" Jarman-Pinto exclaims.
With both of her parents as musicians, Bryony grew up surrounded by the art form, attending singing workshops with her mum from a very young age. Taking inspiration from the jazz vocalists and jam musicians she used to fall asleep listening to as a child, there is an undeniable jazz core at the heart of her music. As she grew up, Bryony began to participate in the workshops and projects her mum set up in Cumbria. It was while at BlueJam Arts that she began to play in a band and perform alongside Tom Leah AKA Werkha. During their time at Glasgow School of Art studying Painting and Printmaking, it was Tom that encouraged Bryony back towards music; the two began playing with samplers and loopers, exploring electronic sounds and softer vocal improvisation. During this time, she wrote and recorded the vocal line for Werkha's track "Sidesteppin'". The track was scooped by Gilles Peterson (BBC 6Music) for a release on one of his Brownswood Bubblers compilations before its inclusion on both Werkha's "Beacons" EP and subsequent Colours Of A Red Brick Raft album on Tru Thoughts.
Connect with Bryony Jarmin-Pinto on Instagram, Facebook and Twitter.
Source: Press Release