Belgian-American, Brighton UK based musician, animator and producer, Speelburg (aka Noah Sacré​), has spent the last two years writing two albums, with the second album written, Character Actor, his upcoming release. Character Actor is due later this summer, and features ten original songs penned by Speelburg. The album will be released alongside his film, "Acrobaleno," a very short movie that was directed by Speelburg last year.
Speelburg recently completed a West Coast tour and will head out on several Midwest dates and a European trek this fall. We caught up with the innovative and unique artist to chat about all things music, his love for animation, why he coins his music "pop music for important people," and his fun music favorites. Check out his videos for his latest single's "Million Air," and "Oxy Cotton Candy" with the interview.
When was your first introduction to music, and when did you decide music was what you wanted to pursue?
My parents have really good taste in music. Joni Mitchell and the Grateful Dead and all that fun stuff. But the first album that I owned, that was completely mine, was Stomy Bugsy's Le Calibre Qu'Il Te Faut – he's a French rapper who was, for a hot minute in 1996, very famous. 'Mon Papa À Moi Est Un Gangster' (or My Daddy's A Gangster) is a seminal record in France's rich musical tapestry, up there with Claude François and Marcel Zanini.
Also, like most kids my age, Bob Marley's Legend and the Forrest Gump soundtrack were stuck on repeat.
I decided to do music when I realized I shouldn't go to art school because my sister told me I shouldn't go to art school because I was spending all my time making music.
You coin your music "pop music for important people." What does this mean to you, and what's your writing and recording process like?
Flattery will get you everywhere. I like to think my audience are as vain as I am, so by saying I'm writing pop music for important people, they'll be thinking "I like this, I must therefore be one of those important people" and if they are coming to my music by reading this interview, then they'll be thinking "I want to be thought of as important people" and start streaming my music in their sleep.
Honestly the recording process keeps changing. I wrote two albums, the second one is Character Album (the first one isn't out yet) and because I was writing it accidentally as I was wrapping up the other one, I wasn't hitting my head against a wall, just having a lot of fun writing stuff that is, most of the time, only funny to me. Whereas in the past, I would often produce and write at the same time, a lot of the songs on Character Actor were written on a guitar or piano, then produced into full songs. I think that helps because you're writing something that, if it had to be, could be performed to a friend without any bells or whistles.
You also have your upcoming album, Character Actor, due out soon. What has that process been like for you?
It's been great! The music industry is, at times a very slow giant, taking months to get anything done, and in other ways, is going by so quickly it keeps changing in the blink of an eye. I've sat on music waiting for people to make up their minds, where you're just wondering if it's ever going to see the light of day, but at the same time, things are evolving all the time! Albums are now singles, average song lengths are shorter again, the loudness war is apparently over? Or maybe it's not?
With Character Actor, it's an album I'm super proud of and it's something I'd actually listen to on repeat if I hadn't made it, and I really want people to hear it. With Spotify only allowing you to submit one track at a time, it almost doesn't make sense to release the record until all or most of your songs have been released as individual singles. Which I'm kind of fine with. Instead of a short album campaign, you can just be releasing music regularly, like every month, and focus peoples' attention on one song. Then you drop them all, release 'em on vinyl, and keep touring.
I love that you produce and animate your own videos. What drew you to that originally?
Aw shucks! thanks that means a lot! I've always been drawing, it's maybe the thing I like the most after music and directing and honestly, it's probably a combination of being a little bit control-freaky and always wanting to learn new stuff. And when you're on a budget, you're forced to get creative in new and fun ways. It's also a bit of "why couldn't I also do that?" That's a big motivator for a lot of the stuff I do. If I have an idea, I just commit to it and figure it out…along the way! There's so many tutorials on YouTube, you can pick this stuff up pretty easily. I'm lucky that more often than not I'll have a pretty specific artistic direction in mind, so it's just a case of executing it to the best of your abilities, up to the very last second of your deadline.
And with every new video I make, I get to pick up some extra skills, be it more complicated movements in animation or even something like crafting a good edit, if it's more of a film thing.
I really can't wait to do more for others!
You're also performing a series of West Coast dates…any future East Coast and/or Midwest dates?
Yeah I played LA last night which was sooooo fun and i'll be in San Francisco on Friday which i'm suuuuuuper looking forward to. I really can't wait to play the East Coast….New York is always so freaking fun and I'd love to play in Baltimore, because I've got a lot of family over there…. there's a few things cooking right now that'll be announced shortly. I can't wait to hit the Midwest and just see a bunch of America I've never seen before!
Fun Questions
Who was your first concert, and who has been your favorite so far?
First one i can remember is probably Red Hot Chili Peppers when By The Way came out. That was really cool. My mom drove me and my friends and on the way back we saw a family of wild boar crossing the street. Like a mom and maybe 7 baby boar. It was pretty adorable.
Favourite show so far is probably White Denim or Unknown Mortal Orchestra, though I saw Cory Henry and the Funk Apostles a couple years ago and that was so so soooo good.
What was your first album on cassette, CD and/or vinyl?
Cassette: Probably something my parents had or maybe some album I ripped like Tryo.
CD: The aforementioned Stomy Bugsy
Vinyl: The soundtrack to You Only Live Twice. I have never seen the movie, but the score is awesome!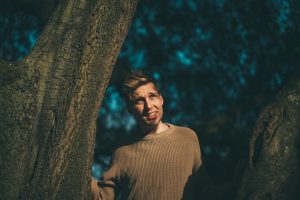 Which five albums and/or artists would you not want to live without?
Aaaaah that's ever changing. Right now, I'd probably say Sufjan Stevens, Vampire Weekend, The Avalanches, Les Baxter and Incubus. I recently discovered that my drummer and I both grew up listening to a lot of Incubus. We were on our way to a show last week when we discovered this and listened to about four of their albums back to back. It was pretty wonderful.
Do you have a guilty music and/or entertainment pleasure?
I'd probably say Vanessa Carlton's 'A Thousand Miles' was at one point a guilty pleasure, though now it's just a straight up pleasure that i indulge in all the time. I have ended many DJ sets to that song to roaring applause, because the world unanimously is always down to listen to VC!
Find Speelburg on Instagram, Facebook, Twitter & SoundCloud