Orange County singer and guitarist, Greg Antista, has been creating music for the last four decades, and has seen quite a bit of the highs and lows of the music industry since. The highs outweigh the lows for many in the music industry, and it's this impetus that has kept Antista creating and making the music he loves.
Antista has formed a new and exciting punk band, The Lonely Streets, and this May, the quartet will release their debut album, Shake, Stomp and Stumble. The album was produced by Paul Miner (C.J. Ramone, New Found Glory and Thrice). The group has released their lead single, "Goodnight Ramona," from their upcoming album. The Lonely Streets are Jessica Kaczmarek of Busstop Hurricanes on lead guitar, Jorge E. Disguster of Mink Daggers, rhythm section bassist, Warren Renfrow of Cadillac Tramps and Manic Hispanic (also a touring member of The Damned and The Adolescents).
"Goodnight Ramona" is a very emotional song, reflecting on a couple's relationship, filled with longing, heartbreak and miscommunication, which reflect many relationships (whether platonic or romantic), and the music video and song serves as a reminder to break through and communicate.
You've been in the music industry a long time, Greg, and have seen a lot of changes within, good and bad. How have these changes influenced you creatively, and how have they impacted you in positive ways?
The changes you mention have never impacted the way I create music. For Shake, Stomp and Stumble the writing and recording process remained the same as with my previous projects. Right from the start, I've made music that comes from the heart. I write about what moves me. I strive to be honest in my storytelling. I surround myself with the best players. Cut the fat. Lay it all down to an unrelenting beat. What's new for me this time around is being responsible for the manufacturing, marketing and distribution of the record. It really gives me an appreciation for the work done by my previous labels. I always assumed they were just sitting around the office smoking cigarettes.
What was the creative impetus behind your new band, The Lonely Streets?
I hadn't played live in several years and the desire to get back on stage is what inspired me to write this record. For me, there is no greater adrenaline than connecting with a room full of people while singing and playing my own music. I've always written music as a means to the end of playing live and it's great to have that back my life again.
You guys' debut album, Shake, Stomp and Stumble is coming out in May. What was that writing and recording journey like?
I've already spoken quite a bit on my writing process but recording this record was also a blast. I recruited my favorite musicians from around Orange County and was lucky enough that they were all available. This project just kept growing as everyone added their signature styles to the songs. Our producer/engineer Paul Miner made it all take shape; what started as a demo session turned into a full-length debut of which we are all very proud.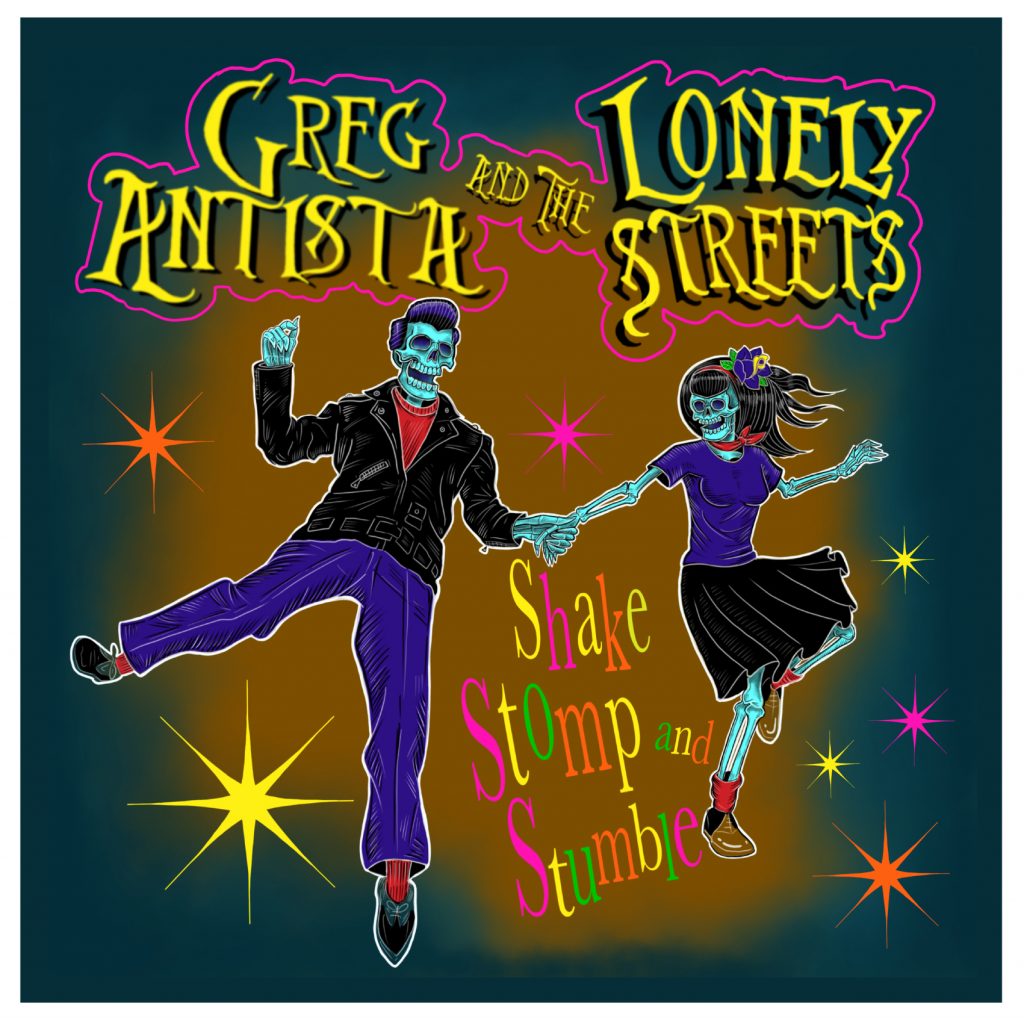 Your new single "Goodnight Ramona" gives us a taste of what's to come with the new album. I love that you enlisted and featured independent musicians from the SoCal scene. Tell us about collaborating with the video's director, Marcela Mariz.
I've known all The Lonely Streets for decades and have been a fan of their previous bands. I always knew I wanted to play with each of them. Somehow the stars have now aligned and we're getting to collaborate on the same project. For the video, director Marcela Mariz took the time to really listen to the song and discuss certain meanings and visuals with me. She then wrote a great script, hired the cast and crew, and came up with a concept that is just drenched in the culture of Southern California.
"Goodnight Ramona" is a very emotional song and video; what was the shoot like for it?
We are all really happy with the video. It was a real collaboration between the band, our friends, and a great cast and crew. It was shot in one day at the home of some close childhood friends. In the front yard, an all-day party was going down. Inside, an all-day video shoot was happening. The props were all there. The home has been in our friend's family for several generations and is bursting with antiques and character. The first time Marcela walked inside she knew it was the perfect spot to tell her story.
Fun Questions
Who was your first concert, and which has been your favorite, thus far?
My first concert was a great introduction to rock excess. I was 14 and hopped into the car of an older kid who took me to see local Orange County legends "Naughty Women." FYI – there are no women in the band. Just a bunch dudes in makeup and glittery costumes. The singer marched around stage with a goat's head on a stick, fresh from the butcher's shop. The show ended with the band in a dog pile and the goat's head rolling into the audience of adoring fans. Ah, the '70s…. good times. That show made quite an impression. It's really hard to choose the best show of my life but The Damned at Godzilla's in the early '80s has to be one of them.
What was your first album on cassette, CD and/or vinyl?
My older sister was a dancer on American Bandstand so from a very young age all I can remember is her blasting the Jackson 5, the Bay City Rollers and the Osmond Brothers on our living room stereo. The first vinyl I owned was a birthday gift. It was Destroyer by KISS, and, yes, I joined the KISS Army. I may still be a member but my dues have lapsed.
Which five artists and/or bands would you not want to live without?
The reason I write and play music is because of The Clash, The Ramones, The Replacements, Johnny Cash and everything Motown.
Do you have a guilty music and/or entertainment pleasure?
In closing, I must admit my guilty entertainment pleasure is the TV program "Aerial America." I know it puts most people to sleep but I never get tired of that slow-moving plane and all the stories packed full of Americana.
Find Greg Antista & The Lonely Streets on Instagram, Facebook and Twitter.