Two-part album Plunge/Surface out October 18 via Downtown
Los Angeles songwriter/producer Goldroom – aka Josh Legg – has premiered a video for the single "Nothing Matters (feat. Chela)" today via Earmilk – share via YouTube – announcing a fall North American live tour (all dates below). Goldroom continues to build momentum into his two-part album, Plunge /\ Surface, due October 18 via Downtown, releasing the record's closing track "Everybody's Lonely" this past Friday. Plunge /\ Surface was influenced by a life-threatening injury and the following recovery, marking Goldroom's most ambitious and fascinating work to date. Watch the video below:
Discussing the track and video, Legg stated, "Nothing Matters is about alienation and feeling alone in a world where only one thing matters – a love, a lost love, even a passion like music. To me the video shows just how alone you can feel when you're without that one thing. When Chela came to me with the idea for a birthday party where she stars, I was in love with the idea. She wrote and directed the video and I love how much it evokes the feelings we had while writing the song."
Known for his intimate but epic High Seas tours (an annual concert series set aboard luxury yachts in cities across the continent), Legg transforms his affinity for the sea into sublimely transportive electronic music built on lush melodies and vast yet graceful arrangements. This year Goldroom added his inaugural High Seas Festival – hitting San Francisco last month & arriving in New York this Saturday, August 24, 11:30am-5pm onboard the Hornblower Infinity, and featuring Washed Out, Manila Killa, RAC amongst others. Tickets for all can be found at http://highseasfest.com.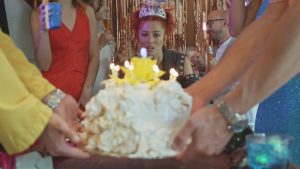 The follow-up to Goldroom's 2016 full-length debut West of the West, Plunge /\ Surface abounds in radically different tones and textures: while Plunge magnifies its moody intensity with a decidedly unpolished sound, Surface delivers a classically escapist take on dance music.
Tour Dates:
Aug. 24 – New York, NY – High Seas Festival East (11:30am – 5pm – Hornblower Infinity)
Aug. 31 – Chicago, IL – The Anita Dee II
Sept. 6 – Jakarta, ID – SHVR Ground Festival
Sept. 7 – Bali, ID – OMNIA Dayclub Bali
Oct. 30 – Portland, OR – Holocene
Oct. 31 – Seattle, WA – The Crocodile
Nov. 1 – Vancouver, BC – Fortune Sound Club
Nov 7 – Santa Barbara, CA – Soho Music Club
Nov. 8 – San Francisco, CA – Mezzanine
Nov. 9 – Los Angeles, CA – El Rey
Nov. 13 – Washington, DC – Union Stage
Nov. 14 – Boston, MA – Sonia's
Source: Press Release