Re-imagined version of 2018's 'Karma For Cheap,' includes brand new song 'My Whole Life Is Over (All Over Again)'
Aaron Lee Tasjan will release Karma for Cheap: Reincarnated on August 30th, 2019. The 10-song set is a completely re-recorded and re-imagined version of his critically acclaimed 2018 studio album Karma for Cheap and includes an unreleased song, the intimate stunner, 'My Whole Life Is Over (All Over Again)." In celebration of its first birthday, Karma for Cheap: Reincarnated will be released exactly one year after the original album.
Billboard has premiered the video for Tasjan's brand new song "My Whole Life Is Over (All Over Again)." Billboard calls the Michael Kessler-directed video "action-packed and surrealistic." PopMatters previously premiered the video for "Heart Slows Down (Reincarnated Version)." View the video for "My Whole Life Is Over (All Over Again)" via below:
The philosophy of reincarnation asserts souls are born and reborn again and through karma, each rebirth potentially leads to a higher level of enlightenment. Aaron Lee Tasjan reckons this philosophy might also apply to songs. The tunes he wrote for his 2018 studio album Karma for Cheap began as quiet meditations, written acoustically. They were given new life when he and his joyfully loud rock 'n' roll band performed them electrically on the road. He took that band into the studio, resulting in Karma for Cheap, a collection that was named an "Album of the Year" for 2018 by multiple outlets. Rolling Stone Country called it a "power pop gem" and described it as "Supertramp-sized prog-pop meets Supergrass-worthy slink" while the Nashville Scene said "There's not a wasted second on it. Tasjan creates what may be the greatest power-pop record ever cut in Nashville." Always a searcher, Tasjan decided to take these same songs through one more life cycle, this time stripping back production, allowing listeners to experience the songs in a fresh new light. Karma for Cheap: Reincarnated was recorded in Nashville, TN with Tasjan's friend, the producer/songwriter/artist Patrick Damphier.
Commenting on the new version of Karma for Cheap, Tasjan says "It seems like everything is getting a second look these days. In a time where everything from news cycles to songs come and go quickly, a second look at them in a new context offers us the opportunity to consider what there is we may have missed the first time around."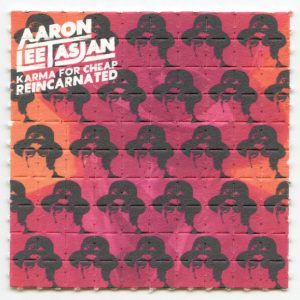 Tasjan has also announced his initial tour dates in support of Karma for Cheap: Reincarnated, launching October 8th in Seattle, WA. Prior to the tour, Tasjan will celebrate the album release with an appearance at Lightning 100's Free Outdoor Concert Series "Live On The Green" held at Public Square Park in Nashville, TN on August 31st. He will also be making multiple appearances at the Americanafest in Nashville, TN in September. Please see all dates below.
Karma for Cheap: Reincarnated will be available across digital retailers and limited edition compact disc available at live shows and independent retail. It is available for pre-order now via New West Records.
Aaron Lee Tasjan On Tour:
August 31st – Nashville, TN Live On The Green (Karma For Cheap: Reincarnated Release Show)
September 6th – Sisters, OR Sisters Folk Festival
September 12th – Nashville, TN Americanafest
September 14th – St. Petersburg, FL The Coliseum (WMNF's 40th Birthday Party)
September 15th – St. Augustine, FL Sing Out Loud Fest w/ Saint Paul & The Broken Bones
September 27th – Johnson City, TN The Down Home
September 28th – Roseland, VA Devils Backbone Hoopla
October 8th – Seattle, WA Columbia City Theater
October 9th – Portland, OR The Old Church
October 11th – Novato, CA Hopmonk Tavern
October 12th – San Francisco, CA Cafe Du Nord
October 13th – Felton, CA Felton Music Hall
October 15th – Los Angeles, CA Bootleg Theater
October 17th – Austin, TX Cactus Cafe
October 18th – Houston, TX Mucky Duck
October 19th – Dallas, TX Wild Detectives
October 20th – Little Rock, AR White Water Tavern
November 29th – Louisville, KY Headliners w/ Todd Snider
November 30th – Lexington, KY Manchester Music Hall w/ Todd Snider
Source: Press Release