Forthcoming debut album, 'Days You Were Leaving,' out August 23 via Bar None Records
*featured image photo by Derec Patrick
LA's Rose Dorn will release their debut album Days You Were Leaving (Bar None Records) on August 24. Today they reveal the excellent single "Collar" which reveals itself slowly as singer Scarlet Knight's vocals quietly build into a song that oozes with charm. The band notes "'Collar' is the first song we wrote as a band so of course it occupies a special place in our hearts. It's about a bunch of disparate moments and emotions that feel largely connected by one central idea: darkness can and often does seep into even the most pleasant experiences in our lives—we may find something beautiful one moment and disagreeable the next, even when that thing has remained essentially the same. While this should speak to the boundless agency we have in the way we perceive our realities, it more often leaves us feeling completely out of control."
Listen to "Collar" here.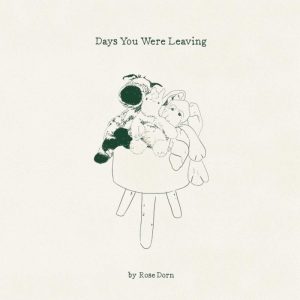 Rose Dorn is Scarlet, Jamie Coster and Joey Dalla Betta. Scarlet just finished high school so they are now ready to go full-time with the release of the album and their first proper tour. The band previously announced their first run of dates in support of the album and have now confirmed new shows including one at Los Angeles' Hi Hat on August 26. The tour also hits Oakland, Seattle and Portland and all dates are below.
Leading to today's release, the band have shared two additional singles, "Champ" and "Shaking." Rose Dorn take elements of bedroom rock, twangy desert gaze, and melancholic California pop and create music that is all their own.
Since their inception they have teamed up with engineer Phil Hartunian [Follies] to record not only the forthcoming Days You Were Leaving but also the band's first EP, 2017's Speak Later and last year's Call Her EP. The ten songs that make up the album examine a nebulous yet transformative period of life where things change whether you like it or not.
Pre-order Days You Were Leaving here.
Tour Dates
Aug. 18 – San Diego, CA – Whistle Stop w/ Quali, Temple of Angels & Runs Deep
Aug. 26 – Los Angeles, CA – Hi Hat w/ Mal Blum
Sept. 19 – Los Angeles, CA – Zebulon w/ Ex Hex, Seth Bogart
Sept. 20 – Oakland, CA – Starline Social Club/Crystal Cavern w/ Fake Fruit
Sept. 21 – Arcata, CA – Blondies w/ OMW2HEAVEN
Sept. 22 – Portland, OR – Jigsaw Records w/ OMW2HEAVEN
Sept. 24 – Olympia, WA – Le Voyeur w/ Flying Fish Cove, OMW2HEAVEN
Sept. 25 – Seattle, WA – Vera Project w/ Dogbreath, Bread Pilot
Sept. 30 – Reno, NV – Holland Project w/ OMW2HEAVEN
Oct. 3 – Phoenix, AZ – Trunk Space w/ Like Diamonds, Gabi Jr., OMW2HEAVEN
Find Rose Dorn on Spotify, Instagram & Twitter